Is RingCentral the Best Phone System for your Business?
RingCentral is one of the leading VoIP service providers for businesses.
Like many other VoIP services, RingCentral offers all the key features needed for a business phone service. And they have a contact center add-on that lets businesses provide customer support. With all of this, RingCentral has become a key player in the VoIP industry. However, it is better suited for large businesses and enterprises.
RingCentral's product and business model caters to "mid-market" companies. These are businesses that aren't Fortune 500 companies but also aren't small business owners with just a few dozen employees. Even though RingCentral is cheaper than landline phone systems, it's still more costly than other VoIP services that offer the same amount of (or even more) features. And it's hard to use. Especially if you don't have a dedicated IT person on the team.
In this post, we'll go into the details of what RingCentral offers, why it might not be the right fit for a startup, and what startups and small businesses can use instead.
---
RingCentral Alternative for Small Businesses & Startups
RingCentral isn't suited for modern startups and small businesses. Here's why.
Pricing
RingCentral's starting price is $30/month/user, but that only includes basic features. Advanced features like video conferencing, integrations, and 24/7 support are locked behind higher-priced plans and additional fees.
If your business has a few dozen employees, RingCentral can cost more than $1,500/month if you want to use all their features and the call center solution.
For a small team, you probably don't want to spend so much money on your phone system every month as the costs can quickly ramp up.
There are plenty of RingCentral competitors that are much more cost-effective for startups to use and easier to adopt. After all, you're not just looking for a laundry list of features. You want a service that works and that your team likes to use. Speaking of which…
User Experience
As a product that launched 20 years ago, RingCentral has kept the user interface and aesthetic of the early 2000s web products. Not a big deal for you? Think again. A recent study showed that 55% of employees would rather use their own phone than a desk phone. Those employees use products like WhatsApp, Messenger, and Instagram for their personal communications. They'll want to use a simple and slick service for work. Providing anything else results in them using their personal cell numbers (and you wasting money on a service nobody actually uses).
In comparison, here's how shared lines (or shared phone numbers) work on OpenPhone. You can see who in a shared phone number is typing in a conversation. No more sending a customer two messages at the same time. And you're also able to tell when a colleague is viewing a conversation or on an active call.
Hardware
Like other VoIP services, RingCentral can work on mobile devices and computers. RingCentral also sells desk phones that can be used with its service. If your business currently uses desk phones and wants to switch to RingCentral, you have to ensure they support your phone in the first place. And there's an additional cost of switching to RingCentral desk phone. Due to COVID-19 and the rise of remote work, many businesses are now switching off of desk phones and using their personal mobile devices and work computers to power their VoIP services.
Best Features Locked Behind Expensive Plans
For modern businesses, key features like CRM and Slack integrations, real-time analytics, APIs, and 24/7 support are much needed. With RingCentral, they lock all these features behind their higher-tier price plans. If you want to integrate Salesforce, Hubspot, or another CRM with RingCentral, you have to sign up for the Premium plan which starts at $45/user/month.
Slack is a tool used by many small and growing businesses. RingCentral's Slack integration is very limited, however. You can integrate Slack to start video calls with teammates and that's it. When integrating Slack with your phone system, you want an integration that can send you updates about calls through Slack and even provide voicemail transcriptions in case you can't check your voicemail.
Customer Support
Due to its size, RingCentral's customer support team is unable to effectively support all of its customers. Based on publically available reviews, it can take days to even get a response from the support team. In addition, 24/7 support is locked behind higher tier price plans. Here are some examples of how customers feel about RingCentral's support: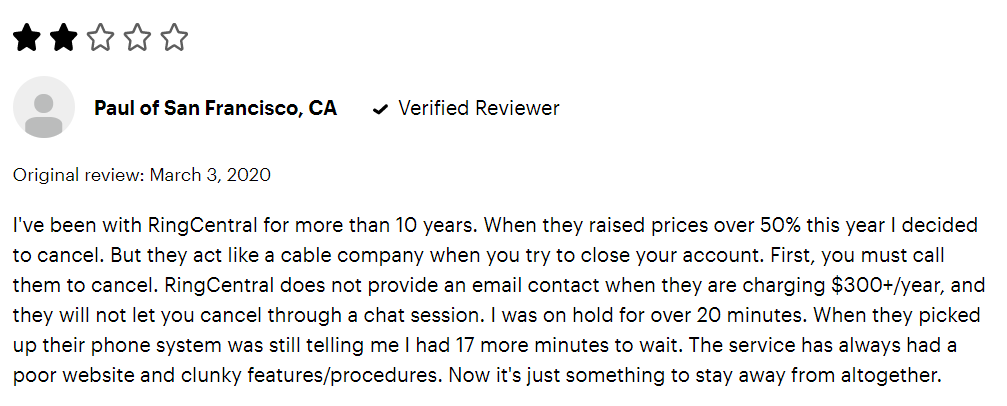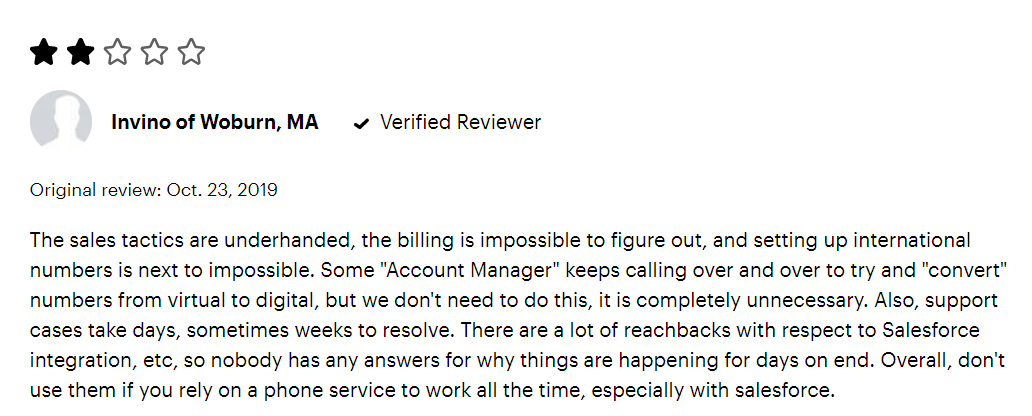 OpenPhone – The Best RingCentral Alternative
If you're looking for a RingCentral alternative, look no further than OpenPhone. OpenPhone is a feature-rich business phone system built specifically for startups, small businesses, mid-market businesses, and individuals. Simply put, OpenPhone has the same features as RingCentral, but with modern user experience and at a better price point (you can save up to 66% on costs by switching to OpenPhone).
To see how OpenPhone compares to RingCentral, below is a table comparing OpenPhone and RingCentral's pricing and features.
| | | |
| --- | --- | --- |
| | OpenPhone | RingCentral |
| Price per month | $10 per user | $35/user |
| Calls limit | Unlimited | Unlimited |
| SMS, MMS | ✓ | Extra $10/mo |
| Voicemail to text | ✓ | ✓ |
| Set business hours | ✓ | ✓ |
| Text message auto-replies | ✓ | X |
| Call recording | ✓ | ✓ |
| Auto-attendant (phone menu) | ✓ | ✓ |
| Email integration | ✓ | ✓ |
| Slack integration | ✓ | Limited |
| CRM integrations | Coming soon | Upon upgrade |
| iOS and Android apps | ✓ | ✓ |
| Web-based app | ✓ | ✓ |
| Desktop apps for Mac & Windows | Coming soon | ✓ |
Comparing OpenPhone to RingCentral?
How OpenPhone Compares to RingCentral
Why should you use OpenPhone instead of RingCentral? We have many powerful features for modern business phone systems including:
Toll-free numbers
Coverage in the US, Canada and internationally
Crystal-clear audio quality
Ability to set business hours to control when you're available to receive work calls
iOS and Android mobile apps
Browser-based and desktop apps
Shared phone numbers for customer support
Multiple phone numbers tied to one account
More importantly, we have a service customers rave about and we're constantly implementing customer feedback into the product. Check out our changelog to see what we're up to ⤴️
In comparison, RingCentral feedback boards have feature requests from hundreds of customers that have been left abandoned for years.
Why businesses switch from RingCentral to OpenPhone
And don't just take our word for it. Here's what businesses have to say about switching to OpenPhone:
"We switched to OpenPhone from RingCentral during the COVID pandemic since it allowed us to work remotely without missing any calls. It allows us to have better customer service levels, quicker responses as anyone can respond to customers in real-time while traveling. We have tried other services over the years, and they didn't have the same level of support we are getting with OpenPhone."
Amira Harris, President, and Owner, Aisle Travel™
"Way better pricing, Way better customer service, and a phone system that is always improving its functionality to better serve its customers!! That is why I switched from RingCentral to OpenPhone!"

Bob Richey, Owner
Party Magic Entertainment
How to Switch from RingCentral
Port your RingCentral Phone Number
Want to port your number from RingCentral to OpenPhone so you can keep the number? Here's how easy it is to port your number to OpenPhone:
Start by creating an OpenPhone account.
Fill out this 1-minute porting form.
That's it! We'll take care of the rest for you.
Import your RingCentral Contacts
We can help you keep your RingCentral contacts and import them to OpenPhone via a CSV file.
That's it!
---
Ready to make the switch from RingCentral? Start a free trial of OpenPhone here.
We're also happy to answer any questions. Feel free to post your questions in the comments below. We read and respond to all comments. Or [email protected] ✌️