Vonage Business is a popular VoIP service for businesses of all sizes. First, we'd like to give props to the team at Vonage. They've been serving businesses for over 20 years.
Like most business VoIP systems, Vonage provides a lot of standard features like calls, messages, auto-attendant, integrations, and more. However, it does have some limitations.
As a company that serves both consumers and small businesses, Vonage's focus is often split between these two groups. This makes it hard to deliver a phenomenal product for businesses. Also, Vonage pricing has lots of hidden fees that make the service far more expensive than expected.
There are plenty of Vonage alternatives that have the features your business needs. In this post, we'll explore them.
The Drawbacks of Vonage Business
No support for picture messaging (MMS)
If you use your business phone to text clients, you'll quickly run into a major limitation with Vonage. There's no support for picture messaging. So if you ever expect to send or receive images on your business phone number, look for an alternative with MMS support.
Fees, fees, and more fees
Vonage pricing starts at $19.99/line/month for its standard plan plus $0.03/minute for outbound calls. You also have to pay an additional fee for user extensions for each phone number. Want voicemail transcriptions? It'll cost $4.99/month/extension. Compare this to other VoIP providers that offer the same features and have a starting price of $10 and no hidden fees.
Vonage's per line pricing can seem great, but it has drawbacks. For example, if you sign up for the Premium plan starting at $29.99/month, it may seem affordable, but you still need to pay $14.99 per extension if you want your team members to use it. So for a team of 5, the cost will be:
$29.99 base price
$74.95 for 5 extensions ($14.99 x 5)
Total cost = $29.99 + $74.95 = $104.94/month for a team of 5
And add an extra $0.03/minute for any outbound calls made by your team
Clunky user experience
Like other legacy VoIP services, Vonage was founded 20+ years ago and has kept the user interface and aesthetic of the early 2000s web products. A recent study showed that 55% of employees would rather use their own phone than a desk phone. Those employees use products like WhatsApp, Messenger, and Instagram for their personal communications. They'll want to use a simple and slick service on their mobile devices and computers.
This is where a service like OpenPhone shines – giving you and your team a simple and beautiful application on any mobile device and computer.
Poor customer support
Many long-term Vonage customers share a common complaint. The customer service isn't all that good. Vonage Business users reported on multiple forums that the support team is slow to resolve critical problems, costing them time and money. These aren't the sort of issues that you'd want to face long term, especially if your phone service is critical to your business operations.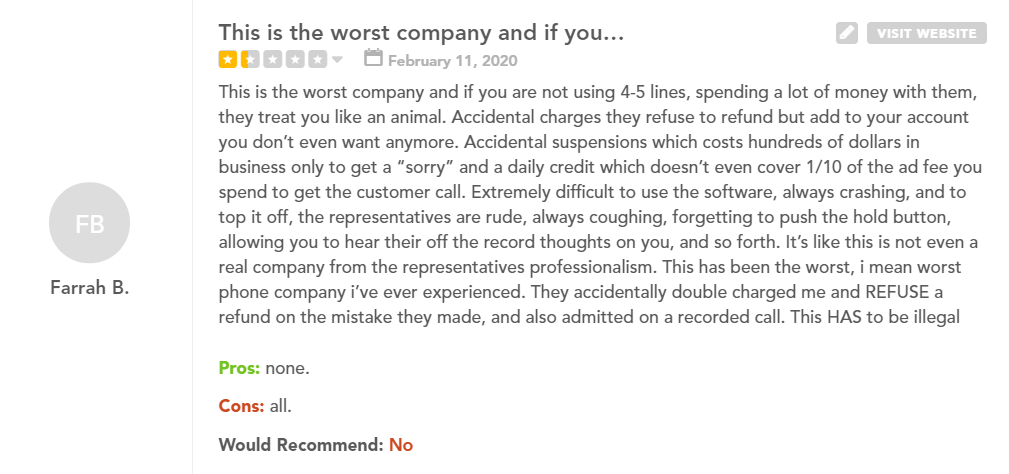 Which VoIP Provider Is a Better Alternative to Vonage Business?
If you run a business, small or large, then you will need to decide on a VoIP provider that is best for your company. There's a lot to consider when choosing the right service. For instance, where are you located (are you in the United States, or outside of it)? If you're working abroad, will you have to make long-distance calls?
OpenPhone is a VoIP provider is built for businesses (big and small) as well as solopreneurs. Unlike Vonage, RingCentral, Ooma, and other legacy VoIP service providers, OpenPhone is incredibly easy to use. It's designed with productivity and speed in mind. OpenPhone works no matter where you are in the world – all you need is an Internet connection.
One note: While Google Voice is a popular VoIP option, it's not suited for business use. You're better off using it if you need an alternate personal phone number.
OpenPhone vs. Vonage feature comparison
OpenPhone and Vonage have many similar features, but there are some key differences that set OpenPhone apart. See the table below to learn how they compare.
| | | |
| --- | --- | --- |
| | OpenPhone | Vonage Business |
| Pricing (monthly, per user) | $10 per user | $19.99 per line |
| Minutes included | Unlimited | $0.03/min outbound |
| Text messaging (SMS) | ✓ | ✓ |
| Picture messaging (MMS) | ✓ | X |
| Voicemail to text | ✓ | $4.99/mo per extension |
| Call recording | ✓ | ✓ |
| Auto-replies | ✓ | X |
| Business address book | ✓ | ✓ |
| Auto-attendant | ✓ | ✓ |
| Extensions | ✓ | $14.99/mo per extension |
| CRM Integrations | Coming soon | ✓ |
Comparing OpenPhone to Vonage Business?
How OpenPhone compares to Vonage
If you're thinking of making a switch from Vonage Business, then OpenPhone is your best bet. OpenPhone might just be the perfect business phone service for you, boasting a variety of features, affordable prices, and top-notch call quality.
We have many powerful features for modern business phone systems including:
Toll-free numbers
Coverage in the US, Canada, and internationally
Crystal-clear audio quality
Ability to set business hours to control when you're available to receive work calls
Ability to set pre-defined automatic responses to texts, missed calls, and voicemails
iOS and Android mobile apps
Browser-based and desktop apps
Shared phone numbers for customer support
Multiple phone numbers tied to one account
More importantly, we have a service customers rave about and we're constantly implementing customer feedback into the product. Check out our changelog to see what we're up to ⤴️
Why businesses switch from Vonage to OpenPhone
And don't just take our word for it. Here's what businesses have to say about switching to OpenPhone:
"Vonage packed a lot of unnecessary features that most of the time didn't work. I missed a lot of calls that didn't come through to my phone. For all the aggravation, Vonage was not worth its hefty price tag — not to mention finding hidden fees on every billing cycle.
OpenPhone is so easy to use! Call quality and receiving calls and voicemails have been fantastic. I love that I can set business hours so my phone isn't ringing after hours (something I couldn't do easily with Vonage). I like how straightforward the app is. Lastly, the price and customer support of the OpenPhone team is unmatched. I haven't looked back since."
Melissa Hughes, Principal/Owner at Halogen Design Lab
How to Switch from Vonage to OpenPhone
Port your Vonage phone number
Want to port your number from Vonage to OpenPhone so you can keep the number? Here's how easy it is:
Start by creating an OpenPhone account.
Fill out this 1-minute porting form.
That's it! We'll take care of the rest for you.
---
Ready to make the switch from Vonage? Start a free trial of OpenPhone here.
We're also happy to answer any questions. Feel free to post your questions in the comments below. We read and respond to all comments. Or [email protected] ✌️